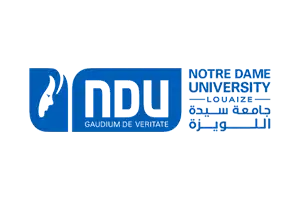 Professor in Graphic Design
Deir El Qamar, Chouf
Education & Training
Contractor
Part Time
The Ramez G. Chagoury Faculty of Architecture Arts & Design at Notre Dame University-Louaize (Shouf Campus) is accepting applications for part-time faculty positions in Graphic Design starting October till end of November, 2022. Applicants should have a Master and/or PhD in Graphic Design, with a teaching experience and knowledge covering the below listed courses topics:
Interactive Design and Motion Graphics
Professional Practice & Portfolio Preparation
3D in Motion
Senior Studio
Photography for Graphic Designers
NDU is a private, Lebanese non-profit Catholic Institution of higher education, which adopts the American system of education. The selected applicants are expected to teach undergraduate/graduate and service courses, engage in research, services and participate in the academic/social life of the University.
Apply Now